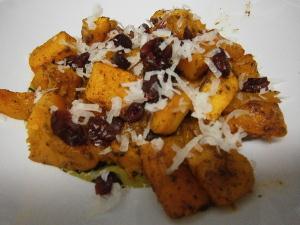 Cranberries seem to go with everything. Coconut is a flavor star. Add them both to a delicious butternut squash and you're a dinner hero.
If you prefer your food spiciness level mellow, reduce or even eliminate the chili powder. I add it in cause Brad likes it. 🙂
Curried Butternut Squash with Cranberries and Toasted Coconut
Ingredients:
1 large butternut squash
2 garlic cloves, minced
1-inch fresh ginger, peeled and grated
3 Tbs olive oil
3 Tbs maple syrup
1 tsp cinnamon
1 tsp curry powder
2 tsp chili powder
3 Tbs shredded coconut, unsweetened
2 Tbs dried cranberries (unsweetened if you can find them)
Directions:
Preheat oven to 375.
Cut and peel squash and chop into roughly 1 inch cubes.
In a large bowl, combine squash with all ingredients except coconut and cranberries.
Pour into large casserole dish and bake for about an hour until squash is tender.
While squash is baking, toast coconut in a dry skillet. Stir constantly to avoid burning.
When squash is done, top with coconut and cranberries.
Enjoy!