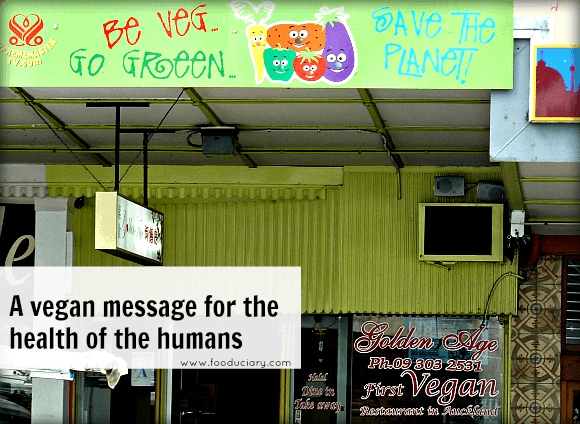 This scenario happened again last week. We're at an event where food is involved. We try to be really mellow about what we're choosing without saying a word as we load our plates with plant-based food and skip the meats and creams, being more willing to eat pesticides on conventional produce than hormones and antibiotics from conventional meat (let alone the cruelty factor). Almost inevitably comes the question from someone watching us dish up…"Are you guys vegan?"
Kelli came up with the best response. "No. Just careful."
This experience renewed in me the feelings of confusion and longing that I feel when I think about the "vegan" label. I wish it meant more than it does and I'm confused as to why it doesn't.
Unfortunately vegan as a word doesn't carry with it any significance as far as the health of the human diet is concerned. You can eat all the candy, drink all the soda, and devour fake meats all you want and be vegan. You'll still be as sick, and potentially more so, than the average general population in our country.
It's perplexing to me how someone can worry about animal well-being while disregarding the plight of the human diet, especially their own.
I remember the time a couple years ago that made me a bit mad at the vegan label. After two weeks in New Zealand we were still searching for a healthy restaurant when we stumbled on our worst meal of our whole overseas trip. And it was due to making the mistake of choosing a vegan option.
As we were walking the streets of Auckland we gave a little squeal of joy when we saw a sign across the street saying 'Be Veg, Eat Green.' We were so excited by the thought of fresh vegetables prepared in healthy ways that we forgot to check traffic and almost got hit by a car running across the street!
As we skipped to the door, we noticed the lettering on the window claiming this to be as the first vegan restaurant in Auckland, and our excitement quickly waned as we saw that it was basically a Chinese place with fake meats used in place of the real things. We haven't encountered too many healthy Chinese places (ever?) and the idea of fake meats is never good. But we hoped it's be compensated with piles of fresh veggies. Going against all of our intuition, we went up the counter and placed our order. When we heard the sound of our food sizzling in an oil pit before we even finished paying, we knew we had screwed up.
There we sat surrounded by a bunch of brochures, flyers, and posters talking about how a vegan diet is the only ethical way to live. We read how eating meat is bad for us and for the planet. Arguments were made using science, religion, and emotion. Then the food came out and all those arguments were washed away in preservatives, unnatural barbecue sauce, and engineered "foods."
The small amount of green on our plates was doused in some sort of unknown Chinese noodle sauce. The main dish was what set me off. My "Black Pepper Not-Steak" was a fake meat trying to taste like steak, but instead tasted exactly like chicken nuggets, smothered in barbecue sauce and all. And Kelli's "Almond Not-Chicken" was another form of that fake meat that looked a little like chicken, bathed in the same sauce. Two bites of that "meat" was all it took to realize that that food was going to make us sick. Blech.
This is where I'm so confused by the vegan movement. It's a lot of work and sacrifice to eat differently than everyone else, and that's an honorable endeavor. For us it's worth it because we have the benefit of personal experience knowing how impactful food is on our health. If you're going to go to that much trouble to eat differently than everyone else, then why not go all the way and actually eat food that will make you healthy?
Eating an organic, pastured chicken raised on grass and bugs is far healthier for you than replacing that meat with a lump of genetically engineered soy that has been processed to hell and back to make it taste like a chicken nugget. Vegans argue that livestock should be left to feed on what they evolved to eat. Well how about the humans? Do you think we evolved to eat Frankenstein versions of plants?
I cringe when I'm asked if I'm vegan because it implies nothing about health or the way I feel about food. Kelli and I are hard to define because we don't fit any well-known labels (still working on getting "Fooducian" world famous 🙂 ). The closest thing we have to a label is calling ourselves "gluten-free, dairy-free, picky occasional meat eaters which means we'll eat it as long as it is drug and chemical free and has been raised humanely, but we draw no permanent lines in the sand and will eat whatever we want if it's time for a treat and worth it." [See what a pain in the butt we are to invite over for dinner?]
It would be nice if the label of vegan worked for us and came along with a feeling of caring for the human diet as well as that of the animals' well-being. Vegans want to end animal cruelty. Every salesman knows that you sale to the prospect's selfish desires and needs, not his own. Everyone cares about his own health and that of his family. Not everyone cares about animals. It is the human health factor that will cause the masses to change the way the world does things in regards to the way we eat and treat animals, and with that being the goal, the vegan message needs to incorporate that aspect into its cause.
I care deeply about how food affects a person's health. And I also object to the mistreatment of animals on their path to our plates. The good news is that humanely, cleanly raised animals are healthier to eat than their feed-lot alternatives, and it's healthiest to make meat a complement to veggie heavy meals rather than the main dish, so it's a win-win. But to simply cut out meat without changing the emphasis of your diet to a healthy, plant- and whole-food based alternative, a vegan is on the same path to fat and sick as the rest of those eating the modern Western diet.
End of the story…yes, that vegan lunch made us sick. Ruined half a day in New Zealand!
So how about this message: "Stop eating so much meat and be aware of how it was raised. Stop eating so much junk food. Stop eating out of cans, microwaves, and deep fat friers so often. Stop treating animals like crap. Start eating more fresh food. Eat organic. Eat veggies, eat veggies, eat veggies."  That's what 'live long, eat green' should sound like. That's a message that makes a whole lot more sense and is one the masses can embrace to effect major change in our country's health and the well being of animal. Yes, we can all get along.