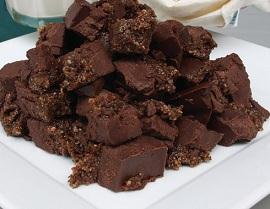 Raw Hemp Seed Fudge (V,GF)
Ingredients:
1 Cup raw cacao powder
1 Cup plus 1 Tbs coconut oil
3/4 Cup raw honey
3/4 Cup raw hemp seeds
1 1/2 Cup Raisins (or 8 dates soaked for 20 minutes)
Directions:
Optional for flavoring: 1 inch fresh ginger, 4 drop lavender or orange essential oil, orange zest, or any flavor or spice you'd like.
Puree the raisins in blender or food processor, then stir in all but 1 tablespoon of the hemp seeds.
Scoop into an 8×8 glass dish and spread evenly. Place in refrigerator.
Combine coconut oil and honey in blender or processor.
Slowly add the cacao powder and mix until well blended.
Pour this mixture on top of raisins and hemp.
Sprinkle with hemp seeds that you set aside. Chill in refrigerator for half hour.
Remove from fridge and let sit for about 10 minutes before cutting and serving.