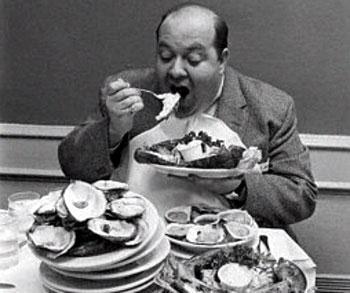 Last year, two studies from Europe and the Mayo Clinic linked diets high in saturated fat – and low in unsaturated fats – to greater risk for brain decline.
Those analyses showed that the risk of memory loss – and other signs of mild cognitive impairment, or MCI – was higher among those who ate the most saturated fats (from animal foods) and the fewest unsaturated fats from plant foods and fish.
Compared to the people with the lowest intake of unsaturated fats, the odds of having MCI were significantly lower among those with the highest intakes of polyunsaturated fats (omega-3 + omega-6 fats) or combined mono- and polyunsaturated fats.
Unsurprisingly, the risk of MCI was lowest of all among those with the highest omega-3 intakes.
Also last year, the Mayo team conducted an evidence review and concluded that exercise – especially aerobic exercise, which works the lungs and heart – can help deter MCI and dementia and prevent associated brain shrinkage (Ahlskog JE et al. 2011)
Now, a new study from Mayo Clinic suggests that eating too much may double the risk for memory loss in people age 70 and older.
It's long been clear that overeating promotes diabetes and cardiovascular disease…and the new study suggests similar links between overeating and neurological risks such as mild cognitive impairment (MCI).
MCI is the stage between normal memory loss that comes with aging and early Alzheimer's disease.
According to study co-author Yonas E. Geda, M.D., MSc, "We observed a dose-response pattern which simply means the higher the amount of calories consumed each day, the higher the risk of mild cognitive impairment." (MC 2012)
The Mayo team's findings indicate a cut-off at 2,143 calories per day, with intakes above that level doubling the risk of memory loss.
Mayo Clinic study links excess calories to memory loss
The study involved 1,233 people in Olmsted County, Minn., ages 70 to 89 and free of dementia. Of those, 163 had MCI.
Participants reported the amount of calories they ate or drank daily, and were divided into three equal-size groups based on their daily calorie consumption:
600 to 1,526 calories
1,526 to 2,143 calories
2,143 to 6,000 calories
The Mayo Clinic team then adjusted their calculations to account for each participant's history of stroke, diabetes, education level, and other factors that can affect risk of memory loss.
After those adjustments, the odds of having mild cognitive impairment (MCI) more than doubled for people in the highest calorie-intake group (2,143 to 6,000 daily), compared with people in the lowest-calorie-intake group (600 to 1,526 daily).
There was no significant difference in risk between the highest-intake and medium-intake (1,526 to 2,143 calories daily) groups.
As Dr. Geda said, "Cutting calories and eating foods that make up a healthy diet may be a simpler way to prevent memory loss as we age." (MC 2012)
Below is a video of Dr. Geda explaining the study. Full details were presented at the American Academy of Neurology's 64th Annual Meeting in New Orleans, held from April 21 to April 28.
Sources
Ahlskog JE, Geda YE, Graff-Radford NR, Petersen RC. Physical exercise as a preventive or disease-modifying treatment of dementia and brain aging. Mayo Clin Proc. 2011 Sep;86(9):876-84. Review.
Roberts RO, Geda YE, Knopman DS, Cha RH, Pankratz VS, Boeve BF, Tangalos EG, Ivnik RJ, Rocca WA, Petersen RC. The incidence of MCI differs by subtype and is higher in men: The Mayo Clinic Study of Aging. Neurology. 2012 Jan 31;78(5):342-51. Epub 2012 Jan 25.c