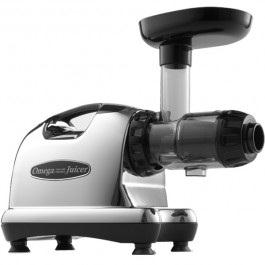 Oh boy oh boy oh boy oh boy!! It's our most exciting promotion and giveaway of the year!! We're giving away a brand new Omega 8006 Juicer!
We've been waiting to tell you all about this giveaway for months and it's finally here.
You've heard about the benefits of juicing. Maybe you've looked around and juicers and found that the high quality ones are expensive. Well guess what…you can win one here. Yeah, seriously.
We've partnered with Omega Juicers, makers of an incredible line of top-notch machines. During November we're going to feature various chefs, nutritionists, and gurus who are going to share recipes that you can make with this juicer. Cause guess what, it does more than juice. Check out a few examples of what the Omega 8006 can do here.
For the last several months we've been experimenting the Omega 8006 Juicer Nutrition Center making juices of course, but also nut butters, flours, frozen sorbets, and more. And come November 30, we're going to giveaway an Omega 8006 Juicer to one incredibly lucky winner.
So be sure to watch for our emails this month cause it's going to be fun.
Excited? You should be. 🙂
You can enter below using any number of methods. Want to really up your odds of winning? Submit a photo or a recipe for a juice or nut butter or anything else this bad boy can do and get 25 contest entries! Upload your recipes to the comment section, and upload your photos below. Cool? Oh yeah.
(Upload photos in the box below and submit recipes in the comment section. Once you do that, be sure to enter your information in the actual raffle application below. Just select the option you did and enter your info.)
---
Share your fun photos!
[ngg_uploader]
---