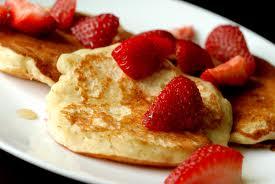 Oatmeal Pancakes (V,GF)
Ingredients:
2 Cups oat flour (made from scratch by blending gluten free oats in a blender)
4 1/2 tsp baking powder
2 tsp cinnamon
2 tsp of mashed ripe bananas or applesauce
2 Large eggs
2 1/2 Cups almond or rice milk
2 tsp vanilla
1/2 tsp salt
Olive or coconut oil for pan
Directions:
Combine all dry ingredients in a medium bowl.
Add wet ingredients and combine well, being careful not to overmix.
Heat a large skillet on medium heat, add oil to coat the pan, and pour 1/4 cup of batter.
When the batter starts to bubble and the edges begin to set, flip the pancakes. Repeat and eat!
Topping Suggestions
Instead of syrup or other sugar toppings, try fresh fruit, coconut cream, or natural peanut butter. If you're going to use syrup, which we sometimes do, make sure to use real maple syrup. Honey's a great alternative as well.