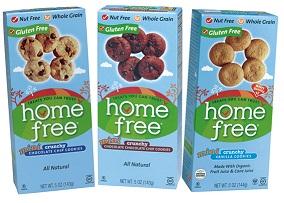 Are you in the mood for some cookies? Check out these good little nuggets from HomeFree.
I know there are many fans of hard cookies, but I'm more of a soft cookie guy. And most store bought gluten free cookies really aren't that great. So these cookies from Home Free already had a couple strikes against them when I opened up the bag. But somehow that bag was gone before I knew it! (It was a 1oz single serving, so don't think I got carried away.) 🙂
What happened? Turns out I really like these cookies. We tried the mini cookies, so each one is gone in just a couple bites, which is great help in keeping portion sizes down. They're less dry than most crispy cookies, and they seem to have gotten the texture just right. Simply put, they just taste good. We tried Chocolate Chip, Vanilla, and Chocolate Chocolate Chip, which has the highest sugar content of all the flavors at a praiseworthy 11 grams per serving. That's great for a cookie (a treat, not a daily snack).
All of HomeFree's treats are nut, dairy, and egg free, so if you have any allergy concerns, they're a great option to keep in mind. As I mentioned, the cookies we tried are gluten free, so those get our thumbs up, but not all of their products are so be mindful of that. And if you're a soft cookie person and still not sold on the crispy idea, they do have soft varieties available as well.
Wanna try 'em? We've got all sorts of ways below to enter to win a box for yourself. Pick your favorite flavor and you'll also receive a coupon from the kind folks at HomeFree.