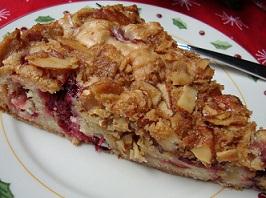 This recipe is from from the forthcoming "Grain-Free Sweets & Treats" cookbook by Kelsey Kale, used by permission. It has a lot of cinnamon, which is great for regulating blood sugar and fighting inflammation. It's dairy free, naturally sweetened, and totally delicious!
Grain-Free Cranberry Coffee Cake (GF,V)
Cake ingredients
4 eggs
1/2 cup coconut flour
2 tablespoons coconut oil or ghee, melted
1/4 cup applesauce
1/2 – 1/3 cup raw honey (use 1/3 cup if you want it a bit sweeter)
2-3 teaspoons cinnamon
2 teaspoons vanilla
1 teaspoon baking soda
1/4 teaspoon sea salt
3/4 cup fresh cranberries*
Topping ingredients
1 cup sliced almonds
1/4 cup raw honey
2 teaspoons cinnamon
3 tablespoons coconut oil or ghee, melted
Directions
1. Preheat the oven to 325ºF.
2. Grease an 8-inch pie tin well with butter or coconut oil, and set it aside.
3. In a medium bowl combine the eggs, honey, melted oil, vanilla, and applesauce and mix well to completely combine.
4. Add the coconut flour, cinnamon, and baking soda and give it a few good stirs – the coconut flour will get clumpy, so allow it to "soak" for 5-10 minutes, stirring occasionally, until you can work it into a smooth batter. Finally, stir it well so no lumps remain.
5. Add the cranberries to the batter and mix well to combine. Pour the batter into the greased pie tin and smooth it out to the edges of the tin with the back of a spoon.
6. In a small bowl, combine the topping ingredients and mix until completely combined. Spoon the topping evenly over the batter, pressing it down slightly into the batter.
7. Bake for 30-45 minutes, until the edges are deep golden brown, and a toothpick inserted into the middle of the cake comes out clean (with maybe a few moist crumbs on it).
8. Enjoy!
*If you only have access to dried cranberries, cut the amount to about 1/2 a cup.