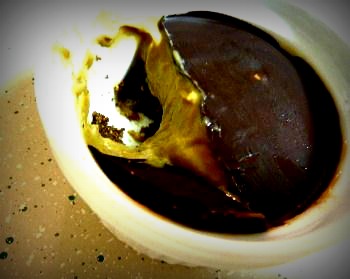 Yes, they're as good as they sound. And even better than they look.
When we came across a similar version of this recipe lately, we knew we had to have. Peanut butter and chocolate, are you kidding? It's like the two were made for each other. This recipe was inspired by the dish created by Angela Liddon at ohsheglows.com, but now with tweaks to make it pure Fooduciary style – gluten free, and an optimal sweetener. And we kicked up the peanut butter intensity as well, because it needed it.
Simply put, this is one you have to try. It's incredibly easy and can be put together in a matter of minutes. Yes, 'incredibly delicious' can be that fast. Try it out!
Gluten Free, Vegan, Delicious Peanut Butter Cups
Ingredients:
For the crust:
1/2 Cup almond meal
1 1/2 Tbs maple syrup
1 Tbs coconut oil
2 1/2 tsp raw cocoa powder
For the filling
1 1/2 Cups soft organic tofu
1/2 Cup organic peanut butter
3/4 cup coconut palm or date sugar, powdered
1 1/2 Tbs almond milk
1 1/2 tsp vanilla extract
1/2 tsp sea salt
For the chocolate shell
4 Tbs dark chocolate chips
2 tsp coconut oil
Directions:
In a small bowl, add crust ingredients and stir until well combined and flours are damp.
Add 2 tablespons of the crust into each ramekin, and press with fingers to spread out and flatten.
Using your blender, process sugar until finely powdered. Leave the lid on and allow a few minutes to settle.
Add the rest of the filling ingredients, blend until silky smooth.
Add about 3 tablespoons of filling into each dish, then shake each dish slightly to level the filling.
Place the ramekins in the freezer for roughly 30 minutes to firm.
Once done, remove from freezer.
Heat the chocolate and oil in a small sauce pan just until chocolate is melted.
Spoon about 2 teaspoons into each ramekin, and twist to coat evenly.
Chill in the fridge or freezer for the shell to harden. Dig in!