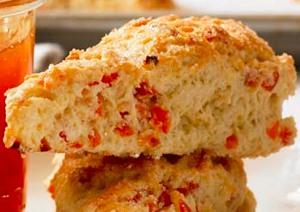 The appeal of scones is one I've never quite understood. Every time I've tried them they've been too dry, essentially flavorless, and so unrewarding that I felt like I'd blown my treat "allowance."
Recently I came across a scone recipe that intrigued me enough to wonder if it could actually be tasty, worth the effort to make and worth making it an "allowance" standby. The recipe I saw was full of refined flours and sugars and had a ton of dairy, so it was a two-fold challenge: make it clean AND taste really good.
The first attempt, not very different from the recipe below, was ok but still not an amazing creation that could turn me into a scone fan. I knew it could be better, and I knew I was close, so I tried one more batch. This time in place of almond milk for the moisture, I used canned coconut milk, the full fat variety of course, wondering what the extra cream and fat would do.
Hello wonder child. That was all it took. The coconut flavor did not come through strongly at all, but what it did for the texture of the scones, combined with the flavor of the apricots, was simply amazing. Am I scone fan now? Well heck yes, if they're made right!
Gluten Free Vegan Apricot Scones
Ingredients
1/2 Cups brown rice flour
1/2 Cup tapioca flour
1/3 Cup potato starch
2 1/2 tsp baking powder
2 1/2 tsp xanthan gum
1/4 cup natural cane sugar
1/2 tsp sea salt
1/2 cup ghee (replace with Earth Balance spread or even coconut oil for vegan option)
4 eggs (replace with Ener-G egg replacer for vegan option)
1/2 cup canned coconut milk
1 Cup apricots, finely chopped
1/2 tsp vanilla
1 tsp almond extract
1-2 Tbs almond milk for brushing tops
Demerara sugar for sprinkling on top (turbinado would be another good one to use)
Directions
Preheat over to 350
In a small bowl, combine flours, starch, baking powder, xantham, sugar, and salt.
Add Earth Balance spread and , using the back of a fork, press into the flour mixture and mix until you have a coarse meal.
In a separate bowl, whisk together eggs, coconut milk, apricots, vanilla, and almond extract.
Add to batter and mix just until combined.
Dust work surface with brown rice flour and place batter onto surface.
Press dough into a circle about one inch thick then cut scones into triangles.
Place scones on a parchment-lined baking sheet.
Brush tops with milk and sprinkle with sugar.
Bake for 10-15 minutes until golden.