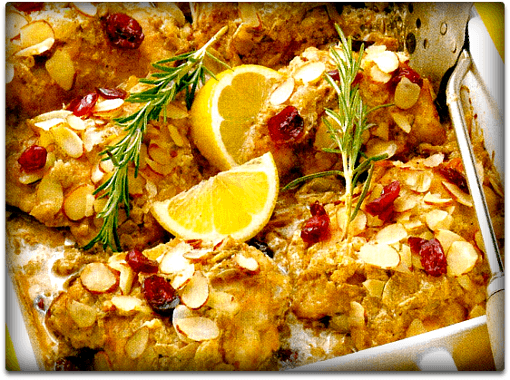 Did you know that breaded chicken can actually still be healthy? And that the fat in coconut milk makes it even healthier? Man I just love real food!
Using only pasture-raised chicken makes this a nutrition powerhouse of a dinner. Load it with steamed veggies of your choice (broccoli for me!) and you're set.
Coconut Lemon Chicken with Almonds and Cranberries (GF)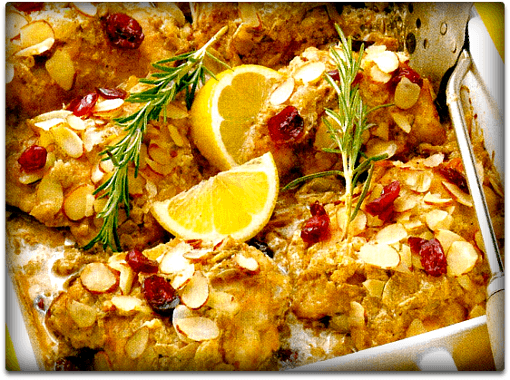 Prep time:
Cook time:
Total time:
Ingredients
3 Tbs avocado oil, coconut oil, or ghee - divided
½ Cup coconut or almond flour
Pinch of sea salt and pepper
6 Chicken bone-in thighs or breasts, skin removed
1 Onion, diced
Peel of 1 lemon, chopped finely (use a vegetable peeler to avoid the bitter white pith beneath the peel)
2 Cloves garlic, minced
Juice of 1 lemon
1 Cup coconut milk
1 tsp fresh rosemary, chopped ( ½ tsp dried)
¼ Cup sliced almonds
¼ Cup dried cranberries (goji berries are also delicious in this recipe)
Instructions
Preheat oven to 350.
Heat 2 Tbss oil in a sauté pan over medium-high heat.
Place flour in a separate bowl or dish. Season with a pinch of salt and pepper.
Individually drag chicken pieces through flour to coat evenly on both sides then place in skillet.
Brown chicken on both sides then place in a 9x13 baking dish.
Lower heat to medium and add remaining 1 Tbs of oil.
Add onion and lemon peel then sauté until onion is translucent, 5-7 minutes.
Add garlic and sauté another minute.
Add lemon juice, coconut milk, rosemary, and any extra salt to taste.
Bring to a simmer then pour mixture over chicken.
Sprinkle with almonds and cranberries.
Cover with foil and baked for 45-50 minutes until thoroughly cooked.