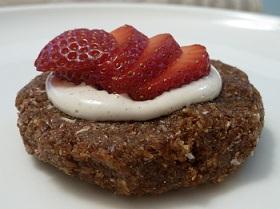 On Saturdays Brad and I like to spend a little time experimenting in the kitchen and coming up with recipes to share on here. It's not unheard of that what was supposed to be a breakfast meal turns into lunch. That was the case this Saturday.
After a later night out with friends on Friday night, we woke up late to a lazy Saturday morning. The idea of coming up with a pancake-ish type breakfast, but not using any flours at all, sounded fun. So we spent a good while playing around with this idea and by lunch time, we were finally ready to eat!
The cakes by themselves are pretty tasty and make for a very filling and fueling breakfast, but it was fun to top them with some of our favorite toppings we've made in the past. Of course the toppings are optional and you can use your own fancy creation or just a drizzle of honey if you'd like. However you do it, these cakes will surprise you with how long it takes you to feel hungry again.
Coconut Flax Cakes with Cashew and Chocolate Sauce (V,GF,R)
For the cakes:
1 1/2 Cups flaxmeal
2 Tbs Shredded coconut
1 Tbs coconut oil
1/4 Cup honey (or maple syrup if you prefer)
1/8 tsp sea salt
1/4 tsp ground cinnamon
2 Tbs water
Combine all the ingredients in a medium size bowl and mix well.
Form into patties roughly the size and shape of dollar pancakes. Top with fruit or one of the optional toppings below. Just a note that the cashew cream requires some advance preparation, so you'll need to plan ahead.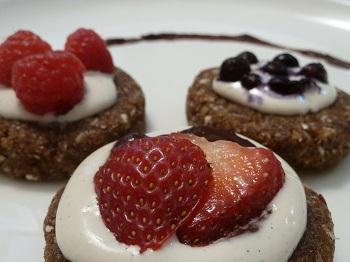 Cashew Cream:
1 cup raw cashews
1/2 cup water
3 inches vanilla bean
2 tsp raw honey
2 tsp coconut oil
1+ tsp lime juice
Soak cashews in some filtered water for at least one hour. Drain, rinse and place in high speed blender.
Add all the remaining ingredients. Cut the vanilla bean down the center and scrape all the insides into the blender. Use more lime juice (like 1/2 – 1 additional tsp) if you want to taste a little of it in the cream.
Blend on high (in a high speed blender) for 45-60 seconds. Refrigerate at least one hour before using.
Chocolate sauce:
3 Tbsps coconut oil
3 Tbsps raw cacao powder
3 tsps raw honey
1/4 tsp maca powder (optional)
1 1/2 tsp tocotrienols (optional – makes it creamier and adds vitamin E)
1 tsp soy lecithin (optional – keeps sauce from separating and adds nutrients; be sure to get non-gmo)
1 tsp vanilla, or 5 inches of vanilla bean insides to keep this totally raw
Wisk all ingredients together and enjoy!