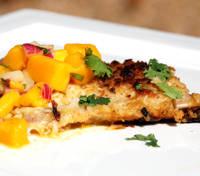 Coconut Crusted Fish Fillets with Mango Salsa
Ingredients:
4 firm white fish fillets, such as whiting
1 cup shredded coconut
2/3 cup brown rice flour flour
1 teaspoon curry powder
1/2 teaspoon cumin
1/2 teaspoon salt (or to taste)
1/2 teaspoon ground pepper (or to taste)
2 tablespoons coconut oil
1 egg
—
For the Mango Salsa:
1 ripe mango, peeled and diced
1/4 cup chopped red onion
Juice of 1/2 lime
1/4 cup chopped red pepper
1 tablepoon vinegar
1 tablespoon maple syrup
1 tablespoon olive oil
2 tablespoons chopped cilantro
1/2 teaspoon curry powder
Salt and pepper taste
Preparation:
Make mango salsa: Stir together the chopped mango, chopped onion, lime juice, chopped pepper, vinegar, maple syrup, olive oil, cilantro, curry powder, and salt and pepper to taste. Set aside.
Mix 1/3 cup flour, coconut, cumin, curry powder, salt and pepper together on a plate.
In shallow bowl, whisk the egg with 1 tablespoon water. Place the remaining 1/3 cup flour on a second plate.
Dredge the fillets first in the plain flour (shaking off excess), then in the egg mixture, and finely in the coconut mixture to coat both sides.
Heat the coconut oil over medium high heat, then sauté the fillets until browned on both sides and cooked though on the inside, about 2-3 minutes per side.
Serve fillets warm with rice and mango salsa.