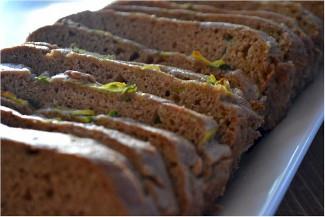 Here in Austin we are starting to see a lot of green zucchini and yellow summer squash coming out of everyone's gardens. If you haven't seen this yet where you live, don't worry – all too soon your neighbors, coworkers, and kids' friends will be turning up on your doorstep with buckets of these summer wonders. What to do with all that zucchini? We've got a fantastic recommendation for at least one delicious way you can use them up.
This healthy zucchini bread recipe is so yummy, you'll forget it's gluten-free. We had some last weekend, and it was divine! And since the zucchini hasn't stopped coming, we're ready for another loaf.
Amazing Gluten Free Zucchini Bread
Preheat your oven to 350ºF. Line the bottom of a 9-inch loaf pan with a piece of parchment paper. Lightly oil it.
Ingredients:
1 Heaping cup of fresh, grated zucchini (peeled, not peeled, or partially are all ok)
1 Cup sorghum flour
1/2 Cup tapioca starch (sometimes called tapioca flour)
2 tsps baking powder
1/2 tsp baking soda
3/4 tsp xanthan gum
1/2 tsp fine sea salt
1 tsp cinnamon
1 Cup natural sugar (like evaporated cane juice, sucanut, or coconut sugar)
1/3 Cup olive or coconut oil
1 tsp fresh lemon or lime juice
2 Egg whites, beaten. (For vegan option, use egg replacer and 1/4 cup non-dairy milk)
1/4 Cup coconut milk (canned – not the lite kind!)
1/3 Cup chopped walnuts or pecans
Directions:
Press the grated zucchini with a paper towel to remove as much moisture as you can. Then fluff with a fork. Set aside.
In a large mixing bowl, whisk together the sorghum flour, tapioca starch, baking powder, baking soda, xanthan gum, sea salt, and cinnamon. Add in the sugar.
Add the oil, lemon juice, egg whites or egg replacer, and the coconut milk. Beat to combine and continue to beat on medium high until the batter is smooth (approx 2 minutes).
Add in the shredded zucchini and stir by hand to combine. If you are adding nuts, stir them in to distribute.
Scoop and scrape the batter into the prepared loaf pan and using a silicone spatula , even out the top.
Bake in the center of a preheated oven until the top is golden and firm, yet gives a bit when lightly touched. It should feel slightly springy. This may take anywhere from 50 to 60 minutes. Test with a thin, sharp knife or a tooth pick – either should emerge with no crumbs or batter.