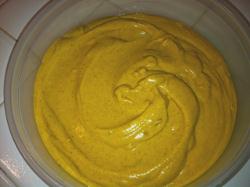 This article is by Maura Knowles of Mac-n-Mo's Morselicious Treats, a healthy baked goods company.
---
One of my favorite holiday flavors/treats is pumpkin and I am an almond addict throughout the year. Thankfully, both foods have health benefits so I don't feel uber guilty about indulging. And heck, I even use these ingredients in my Morselicious Treats, which is my business, so I guess you could say "Mo puts her morsels where her mouth is," or something like that?
Anyway, here are some of the MORSELICIOUS benefits of pumpkin:
Low-calorie, low sugar, rich in potassium and beta-carotene (a powerful antioxidant). It's a great source of vitamins A, C, and E, and packs potassium (great for lowering blood pressure). Plus, pumpkin is naturally sweet. Add some of your favorite spices and call it a treat or blend with ice and almond butter and the rest of my recipe and call it "ice-cream."
Or, don't call it anything and just eat and enjoy!
Almonds:

6 g of protein per ounce almonds have more calcium than any other nut and lower in calories at 160 per ounce (23 nuts). NO cholesterol. Rich in fiber and vitamin E, an antioxidant that helps fight inflammation, the underlying cause of most auto-immune disorders including diabetes and heart disease and possibly lung cancer.
NOTE: Both of these ingredients are REAL, WHOLE foods! Enjoy the MORSELICIOUSNESS!
Mo's Pumpkin Soft Serve "Ice Cream"
1 can pure pumpkin
¼ cup canned coconut milk
¼ cup almond butter (make your own using your Omega Juicer)
1 ½ tsp pumpkin pie spice or mix cinnamon and nutmeg
½ tsp – 1 tsp liquid stevia (depending on desired sweetness)
ice cubes
Blend in heavy duty blender or food processor into a smooth consistency.
Drink immediately or store in freezer for ½ hour and eat as soft serve "ice cream." MORSELICIOUS!
Serves 3-4