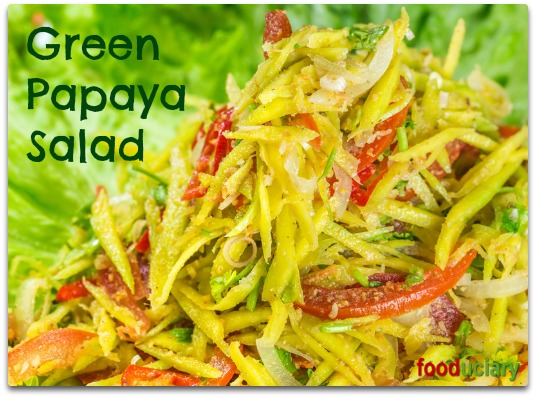 In 2011 Kelli and I spent a month on the island of Bali. Bali is as magical and beautiful as you've been lead to believe. It's gorgeous, the beaches are fantastic, the culture is amazing, and there is delicious food everywhere.
After long walks around the rice fields or long scooter rides throughout the country side, one of our favorite ways to refresh was a serving of green papaya salad. It's a light meal that makes you smile with each bites.
(Sadly papayas are one of the more common GMO crops, so be sure to choose non-GMO papayas by buying organic.)
Green Papaya Salad
For the Vinaigrette
1/4 Cup olive oil
1 Tbs fresh lime juice
1 Tbs apple cider vinegar
1/8 – 1/4 tsp red pepper flakes, to desired heat
Salt and pepper to taste
For the Salad
1 1/2 Pounds green papayas, peeled, seeded, and grated
1 Carrot, peeled and grated
1 Tomato, sliced in wedges
1/4 Cup bean or lentil sprouts
4 Butter lettuce leaves
Directions:
For the vinaigrette, combine all ingredients in a large bowl and stir until well blended.
Add remaining ingredients, except lettuce leaves, and toss until evenly coated.
Using 4 salad plates, add a lettuce leaf to each then dish equal amounts of the papaya mixture onto each leaf.
Serve chilled.