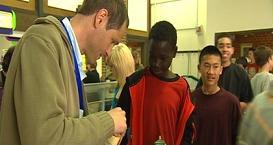 Here's an article from one of our local news outlets. The message is getting out there. It's only a matter of time! It's amazing that the students notice such a difference so fast. They're begging for these changes; we just need to help make them happen.
—
A Granite Park Junior High School teacher has found a way to motivate kids to make healthy food choices.
"Obesity is growing, and it will keep growing. It's not gonna stop unless we change policies," says teacher Joaquin Fenollar.
Fenollar gives students up to three points that are good for prizes if they choose the healthy lunch option. The cafeteria has started serving more fruits and vegetables since the program began.
"Before, I wouldn't wanna do anything, and I was always tired," says student Madison Pau. "Now I'm always having energy. So, actually it's helped me a whole lot."
Fenollar hopes other schools will pick up similar programs to promote healthy eating habits.