Thank You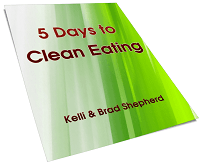 That's it. You did it. An email is already in your inbox with your copy of 5 Days to Clean Eating attached as well as a download link. You're all set.
Eating healthy, and healthy eating made easy, starts today.
The 5 Days guide is a great first step to get you on a path of eating real food. If you're struggling with more severe issues and are ready for the next step, perhaps looking for a solution to serious or just inconvenient health concerns, be sure to check out
The Clean Eating Healthy Detox Diet.
The Detox Diet is designed to reset your taste buds, your healthy bacteria, kill off the bad guys, and get your body back to functioning like it should.
We want Fooduciary to be as helpful to you as possible. Take a moment to let us know what you're struggling with. What are your questions? What would you like to read more about?
Yes, we read all the comments and you can find us on our Facebook page almost every day, too.
Thanks for connecting with us. We're thrilled to meet you and we look forward to sharing this journey with you.
Happy living,
Kelli and Brad
P.S. We thank the Detox Diet for Kelli's remarkable arthritis turnaround and for Brad saying goodbye to stuffy noses and snoring. Learn more about it here.